LEARN2CHANGE Book Publication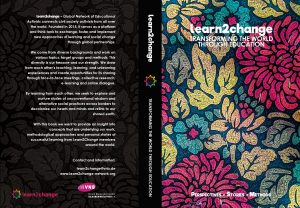 The book "Learn2Change – Changing the World through Education" gives insights into the diverse knowledge, thoughts, pedagogical practices and personal learning stories from network members from all over the world.
In the first part, the authors describe in theoretical essays their perspectives on ideas and concepts underlying their educational work. They discuss which education we need and how (global) learning can contribute to change. They advocate a decolonization of education and share their thoughts on the meaning of "good living" and global citizenship.
In the second part of this book, the authors report on both individual and community learning experiences. The stories highlight a variety of leverage points that can encourage and empower people for own actions towards change.
In the third part, the authors present successful practice for transformative learning and education. They describe creative methods such as theatre, storytelling and poetry as well as city walks, games and a geocaching tour with the smartphone. Most of the approaches can be applied in a thematic spectrum ranging from climate change and justice to gender issues and personality development, etc…
The book is available in German and English. Hardcopies can be ordered by emailing learn2change@vnb.de.
Free downloads: